CLICK HERE to see webcam photo taken in last 2 minutes

CLICK HERE to see Whitefish Chain weather forecast
CLICK HERE to see map of Chain
CLICK HERE for lake water level page and current levels
Lower Hay webcam/weather courtesy Steve Curry
---
A Message from WAPOA President, Tom Watson
WAPOA has been working on water quality and conservation matters for 43 years and continues to do so.
All private property owners about the Whitefish Lakes area need to take responsibility and get involved in these issues.

Our elected officials at township, county, and state levels must understand that there could be economic and employment consequences to the area if invasive species make our lakes undesirable and unattractive destinations for travel, vacation and visits.
We will continue to advocate that our local units of government step forward to help in the fight against invasive species.
WAPOA has suggested ways they could help that would have minimal or no cost. Share your thoughts and views with your public officials and WAPOA Directors.
Our commitment to water quality is only reinforced with the recent zebra mussel detections. We need to engage everyone and attract all private property owners to join WAPOA.
---
ICE ADVICE FROM THE EXPERTS
Pass these tips on to everyone in your family


Thickness, travel, ice rescue, vehicle escape, clear vs snow ice

From the experience of the Minnesota DNR CLICK HERE
---
10-2013
Big Trout Lake Access Restoration Wins 2013 Lake Friendly Award
It takes a joint effort of several groups to do restoration
WAPOA President Tom Watson represents WAPOA CLICK HERE
---
9-25-13
New Aquatic Invasive Species Center at U of Minnesota
WAPOA closely watching new U of Minnesota research program that will focus on treatment and control of invasive species.

Comments by WAPOA President Tom Watson and former President Dave Fischer on Lakeland Evening News, video CLICK HERE
--if necessary adjust volume slider on right side of speaker icon on video--

UPDATE 11-8-2013: U MN hires new invasive species research professor CLICK HERE
---
9-26-2013
Finally some good news! WAPOA inspections of lake vegetation at 32 area sites found no Eurasian water milfoil. Click to see map and chart. Also interesting is the great variety of plants in our lakes CLICK HERE
---
9-25-2013
WAPOA Fall Newsletter CLICK HERE
Latest information on zebra mussels, other invasive species, and how WAPOA continues to work on the invasive species problem.
---
9-19-2013 Zebra Mussel Veligers Just Confirmed in Upper Hay Lake
Mike Duval, Brainerd DNR, confirms that several plankton net samples taken on Upper Hay in August have shown a small number of zebra mussel veligers. The samples were analyzed By Gary Montz, DNR Scientist in St Paul. Veligers are the immature form of zebra mussels.
---
WAPOA Hosts Aquatic Invasive Species Seminar September 25, 2013
Fifty-five people attended!
The area's top invasive species experts discussed steps boaters and lakeshore owners should take now that the Whitefish chain has zebra mussels. Protecting your boat, motor, and yourself.
Transporting boats, trailers, and waterfront equipment legally. Using certified waterfront professionals. CLICK HERE
NEW FEATURE: VIDEO OF THIS SEMINAR CLICK HERE
---
9-17-2013
WAPOA speaks frankly at State House Legislative Committee meeting, taking invasive species fight to state level, outlines challenges. Praise from legislators.
CLICK HERE for Brainerd Dispatch article
--------------------------------------
l-r, Dave Fischer WAPOA Past President, Tom Watson, WAPOA President
Image from LAKELAND NEWS 9-11-2013

---
WAPOA disappointed by County Board response to WAPOA proposal for preventing additional invasive species in Whitefish Chain. CLICK HERE for Brainerd Dispatch article. 7-13-2013
PLEASE CLEAR THE WAY SO WE CAN GET TO WORK

WAPOA President Dave Fischer states, " The recent discovery of zebra mussels in the Whitefish Chain highlights the urgency of keeping out additional invasive species.

The lakes area economy is built around our pristine lakes. Our lake associations have reached their limit in financing inspections and treatment.
It is time for local government at all levels --township, city, and county--to do their share, to join the fight, time for them to work with us to form Lake Improvement Districts. This will allow lake shore owners to tax themselves to raise funds to fight invasive species.
We can do the work and we will pay the additional amounts, but we can only do that if the County and other local governments clear the legal path making it possible for us to do it."
---
UPDATE 9-13-2013

Update: Zebra mussels now found in 10* lakes on Chain

Recent plankton netting finds zebra mussel larvae in 8 additional Whitefish Chain lakes.
See DNR map where veligers found CLICK HERE
*Zebra mussel veligers found in Upper Hay since map was made
---
Neighboring at its best, bringing together those working on farms with those living on lakes.
A great evening, social hour followed by an excellent gourmet dinner dinner prepared by Chef Justin Bolz-Andolshek of Lakes Latte using local food, followed by two exciting speakers CLICK HERE
"We want to keep communications open between producers and consumers so that lakes people are aware of what farmers are doing to avoid water issues and farmers stay up to date on what they can do to continue to preserve the waterways around them," said Sarah Kuschel from the Cass County Farm Bureau. FROM PINEANDLAKES.COM
---
5-7-2013 Minnesota DNR starts using dogs trained to detect zebra mussels! You Tube Video HERE
---
Zebra Mussels Discovered on Whitefish Chain--- Cross Lake and Lower Hay
Official MN DNR News Release "... one out of every 10 boaters is not taking the necessary precautions to avoid spreading AIS." CLICK HERE
WAPOA Special Alert
Our initial Special Alert on July 11, 2013 from then WAPOA President Dave Fischer advised that the DNR had located a small number of adult zebra mussels in Cross Lake.
ZEBRA MUSSEL UPDATE

The current status of the Whitefish Chain as of October 3, 2013 is as follows:
Using plankton net sampling the DNR has now found the presence of zebra mussel veligers in 10 of the 14 lakes of the Whitefish Chain.


The highest number of veligers --26--was found in a sample taken from Cross Lake.
This sampling revealed the presence of small populations of zebra mussel veligers on 10 of the 14 lakes that make up the Chain.

As a comparison, in samples taken on Gull Lake this summer, the number of veligers ranged from 1,300 to 16,700 per sample.
One adult zebra mussel was found in Lower Hay in July 2013. A limited SCUBA dive was performed in Lower Hay and no more were found.

The DNR also performed a scuba dive search in Cross Lake on August 27, 2013 and found a small number (less than 10) of adult zebra mussels.

The DNR is classifying the Whitefish discovery as an "early invasion."
AIS (Aquatic Invasive Species) warning signage has been erected at all seven Public Accesses on the Chain and is being extended, with WAPOA assistance, to private accesses.
Click here to see a map showing the 25 locations that were sampled. If a location had veligers the number found at that location is indicated.


As a comparison, in samples taken on Gull Lake this summer, the number of veligers ranged from 1,300 to 16,700 per sample.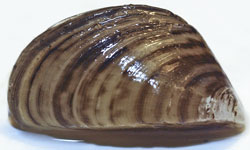 These findings confirm that there are breeding adults present in the Whitefish Chain.

However, the small number of veligers would indicate that the infestation is in a very early stage.
WAPOA paid and volunteer access monitoring is continuing, with added emphasis to ensure boats leaving the access are in compliance with state regulations (plug pulled, bait buckets & livewells drained, no water in boat, no vegetation on boat or trailer, etc.).
Lake shore owners should check their boats, docks, floats and other water accessory equipment carefully this fall for the presence of zebra mussels when they are taken out of the water.
Notify the DNR in Brainerd Dan.Swanson@mn.dnr.state.us or email WAPOA: info@WAPOA.org

------------------------------------------------------------------------------------

July 24, 2013 More detailed information from both the DNR and WAPOA about the lake status and also a fascinating description about the discovery of the zebra mussels available in Star Tribune article HERE
---------------------------------------------------------
earlier statement by WAPOA President Dave Fischer

"Obviously we are deeply disappointed that zebra mussels have been detected in Cross Lake and Lower Hay Lake, two of the fourteen lakes in the Whitefish Chain.
We will continue our program of access education and inspection, increasing our emphasis on boats leaving our accesses.
These findings, while disappointing, do not alter WAPOA's mission to conserve our natural world for future generations by working with area citizens, groups, associations, ad government units.
We also need all Minnesotans to recognized that this is an issue which increasingly impacts them, both financially and ecologically, whether or not they spend time on our lakes and rivers."
Contact:Dave Fischer Email: president@wapoa.org Phone: (218) 6921869
Facts: Whitefish Chain: 14 lakes, Approx. 14,000 acres, 119 miles of shoreline, 7 Public Accesses, plus numerous Private Accesses, high transient boat traffic Facts: Whitefish Area Property Owners Association, Established 1970, Approx. 1000 member families plus 50 business sponsors Association also has members on other area lakes not connected directly to Whitefish Chain
---
---
PHOTO ABOVE FRIDAY JULY 12, 2013 LOWER HAY ACCESS
Photo of the DNR survey crew just after discovering a zebra mussel near the access in Lower Hay Lake.

---
JULY 16, 2013 Official MN DNR News Release-Zebra Mussels on Whitefish CLICK HERE
July 24, 2013 Sisters 10 and 12 discover Whitefish Chain zebra mussels Star Tribune CLICK HERE
Rich Rezanka, MN DNR Invasive Species Specialist, excellent discussion on ZEBRA MUSSELS--audio file click here
Zebra mussel information MN DNR Includes video of local lake 4 years after intial invasion-- CLICK HERE
---
July 16, 2013

Designated Infested Waters---Whitefish Chain of Lakes

Arrowhead Lake.
Bertha Lake.
Big Trout Lake.
Clamshell Lake.
Cross Lake.

Daggett Lake.
Island Lake.
Little Pine Lake.
Loon Lake.
Upper Hay Lake

Lower Hay Lake.
Pig Lake.
Rush-Hen Lake.
Whitefish Lake.
---
RUN FOR THE WALLEYE Saturday July 6, 2013 in Crosslake CLICK HERE
July 6, 2013 Results of the Run CLICK HERE
The real result was that over 500 runners and walkers and their families had a great time on a 4th of July weekend and that in the process they helped WAPOA raise money for walleye habitat.
---
What are those little white plastic caps in my yard? Is there anything I should know about a septic system?
WAPOA presents a quick early evening SEPTIC SYSTEM CLASS CLICK HERE
TUESDAY JULY 9 ---
The answer to the above questions are that you should know about your septic system if only to know that it can get real expensive and real inconvenient if you have not been taking care of it.
---
WAPOA ANNUAL MEMBERSHIP MEETING
Excellent article in ECHO CLICK HERE
June 8, 2013 Very successful WAPOA Annual Membership Meeting. Featured speaker DNR research biologist Paul Radomski talked about the recently completed 2-year study of the Whitefish Chain. Link to the study CLICK HERE
Conclusion of Study: Protection of both the shoreline itself and the habitat surrounding the shoreline will be the most effective way to preserve the plant and animal communities in and around the Whitefish Chain of Lakes, and the value of the lakes themselves.
---
DNR STARTS ITS BOAT HIGHWAY CHECKS AGAIN
IN BRAINERD VACATION AREA
May 24, 2013 The MN DNR has again started its road side and lake access checks in Crow Wing County to check for invasive species.
At the beginning of the Memorial Day weekend boats, trailers, and water equipment were inspected.
A conservation officer said that there would be more checks in the area this summer.
Citations were issued for violations at the two sites. Photos CLICK HERE
---
NOTICE: TEMPORARY CLOSURE OF BIG TROUT ACCESS
The Big Trout Lake watercraft access is scheduled to be closed from 10 p.m. June 2 to June 14. The improper runoff of surface water into the lake will be corrected with a reconstruction of the access. A joint project of the DNR, Crow Wing County Soil and Water Conservation District, US Army Corps of Engineers, and WAPOA. Details HERE

UPDATE 10-21-2013 This project just awarded the prestigious Lake Friendly Award CLICK HERE
---
Make sure your lake service provider is DNR certified---Check the latest DNR list HERE
---
2013 SHORELAND RESTORATION CONTEST HAS WINNERS!

The 2013 contest is over but you can enter our Shoreland Restoration Contest in early summer 2014. There will be several winners who will share a total of about $6,000. WAPOA will introduce you to local experts who will give you free advice and help with your planning.
Preliminary open house with free light refreshments will be in early June 2014. Actual contest night will be mid-june 2014.
Results: Northland Press article about the shoreland restoration contest and the contest winners CLICK HERE
---
SHORELAND RESTORATION
Five You Tube videos recommended by Crow Wing Soil and Water Conservation Service........more
They show specific elements of shoreland restoration.
Shoreland restoration is very important for the lake. The restoration of natural vegetation provides a buffer which protects the lake from water running off the adjacent shoreland. This water carries fine particles of soil which cover and destroy the proper bottom surface that fish eggs need. In addition the soil carries in phosphorus which promotes lake-clogging algae. Not to mention rain water carrying fertilizer, pesticides, herbicides, and driveway run-off with gas, oil, antifreeze, and more. Plus, quite a few animals like to be near the water, just as you do.
---
April 25, 2013 Finally a sign of Spring, walleye stripping starts on Pine River, just above its entrance to Whitefish lake.....CLICK HERE
MN DNR Fisheries Area Supervisor, Marc Bacigalupi, left, helps to clear debris off metal screens on April 28, 2013.
The screens used to direct fish at the stripping station became plugged by debris when there was an overnight increase in the flow of the Pine River as the snowpack melted.
---
WAPOA April 26, 2013 Board Meeting
Ice is still covering area lakes but making final plans for the busy summer season won't wait.
WAPOA President Dave Fischer makes a point at the April Board Meeting.
Meetings are usually held at the Ideal Community Center.
Board meetings will continue into November with the one after that occurring in January 2014.
---
Crow Wing Soil and Water Conservation District has funds and technical help for owners of forest land for forest projects that help the adjacent fishery by improving water quality.
---
LAKE VOLUNTEERS WIN AWARD
Volunteers win prestigious 2012 Lake Friendly Award CLICK HERE
Awarded October 25, 2012 by Phil Hunsicker of Envision Minnesota on behalf of state and county agencies and local groups interested in preserving the health of our lakes.
---
CHECK DOCKS, WATER EQUIPMENT FOR ZEBRA MUSSELS
Shoreland owners should check their boat lifts for adult zebra mussels, which are yellowish-tan and brown striped, and range in size from one-eighth inch to about one inch long.

People who find something they suspect is a zebra mussel, faucet snail or other aquatic invasive species should take a picture of it, keep a specimen, and report it to the nearest DNR invasive species specialist. A listing of specialists is available on the DNR's website. http://www.dnr.state.mn.us/invasives/contacts.html
---
ZEBRA MUSSELS ON BOAT, LIFT? YOU NEED A PERMIT TO TAKE THEM ON ROAD
2013 Shoreland Owners: If you have invasive species actually on your boat, lift, trailer, or other equipment a new DNR permit required if transporting on a public road CLICK HERE
---
July 2013
WAPOA's Invasive Species inspection Report for the Whitefish Chain
Zebra mussels were discovered in lakes at both ends of the Whitefish Chain---Lower Hay and Cross in July 2013.

All 13 lakes in the Chain have now been designated as infested waters.

photo credit: Alison Fox, University of Florida, Bugwood.org
Fortunately, WAPOA-sponsored professional inspections (August 2012) in the Whitefish Chain did not find any evidence of the invasive Eurasian watermilfoil plant,

The 14 lakes of the Whitefish Chain, like other area lakes, are at risk for the introduction of invasive species.
Unfortunately, Eurasian watermilfoil and/or the zebra mussel are currently found in the following area lakes: Gull, Pelican, Kimble, Ossawinnamakee, Mille Lacs, Bay, Leech, and Winnibigoshish. And now the Whitefish Chain with zebra mussels.

In an effort to prevent the spread of invasive species, WAPOA continues an aggressive program of public education and paid and volunteer watercraft inspectors at boat accesses.
In 2013 we are paying for 2,600 hours of inspections on the 7 major accesses on the Whitefish Chain.

In addition, WAPOA pays for inspections of over 30 one-acre water areas surrounding high risk boat accesses looking for invasive plants.

If an inspection would find an early infection with Eurasian watermilfoil we would aggressively treat the initial infested area if advised and permitted to do so by the DNR.

---
WAPOA's 2013 Water Quality Report for the Whitefish Chain
Note: a lower TSI number means better water quality.

The latest 5 year water quality results can be shown with a map. CLICK HERE
If you can resist the map for a minute, it might be helpful to read below.

This MN PCA photo shows the use of a Secchi disc which provides 1/3 of the TSI water quality score.
WAPOA volunteers regularly use this disc to measure water clarity and they also take water samples which are sent for laboratory testing.

These measurements are combined to give the "TSI" figure.
Important: Remember when you click above to see the water quality map, a lower TSI number means better water quality.
Most everything WAPOA does is related in some manner to maintaining and improving water quality: water testing, lakeshore restoration, educating lakeshore owners to prevent rain water runoff into lake, not using phosphorus fertilizers, shoreline buffer strips, and more.
---
DNR LINK WITH EVERYTHING YOU NEED TO KNOW ABOUT ZEBRA MUSSELS
An excellent summary of zebra mussel information CLICK HERE
"ACTION STEPS" TO AVOID SPREADING INVASIVE SPECIES CLICK HERE
---
WAPOA WORKS IN MULTIPLE WAYS TO IMPROVE WATER
A note to our website visitors, notice that everything we do is somehow related to improving the water quality of our lakes.
Testing water

on over 30 lakes lets us see trends in water quality.

Restoring lakeshore

with native plants keeps phosphorus and sediment out of the water. Less algae, more fish

Working with upstream farmers

as we look at all sources of water flowing into the lake; so the Harvest Dinner




I

nspecting boats

for invasive species

in order to keep the natural balance of the lakes.

Working for shoreline

policies

that permit only shoreline uses and activities that result in clean water.




Maintaining focus

on the two most important issues

:

water quality and invasive specie

s
---
Current News Items and Hot Topics
August 5, 2012 Explosive growth of Mille Lacs zebra mussels: Picture yourself as a DNR biologist trying to determine if there has been an increase in zebra mussels in Mille Lacs. You count the zebra mussels in one square foot of lake bottom. Then compare that count to a previous count. How many did you find in the square foot in the most recent count? 7 or 70 or 700? Not enough! Try 7,700 zebra mussels per square foot on the bottom of Mille Lacs ......more
---
DNR aggressively takes invasive species fight to new level
Enforcement rather than warnings for 2012
fines and citations

for traveling on highway with vegetation, zebra mussels, drain plug in, bait with water from previous lake

mandatory road checks trailered boats diverted to roadside check area for inspection by enforcement officer
150 more access inspectors
mandatory training, tests, certification for lake service providers
→All information above covered in a "must read" Star Tribune article.......
---
HOW WAPOA IS FIGHTING AQUATIC INVASIVE SPECIES

a quick overview of WAPOA activities.....
---
WHAT CAN I DO?
Do I have any responsibility for invasive species?
Ten things you can do to prevent invasive species CLICK HERE
Score yourself, do you know at least 7 of these 10 action steps?

---
NEW LAW: TEST/CERTIFICATION OF DOCK INSTALLERS

2013 Lake Service Provider Class Schedule CLICK HERE

Lakeshore owners: dock installers and other waterfront workers are required to take this class and pass a test to be certified. They must have in their possession evidence of having passed the test.
Permitted Lake Service Providers list CLICK HERE
Is your dock installer on this list? Most recent DNR list HERE

---
DEALING WITH ZEBRA MUSSELS
VIDEO OF THE WEEK: The "right" way to clean a personal watercraft CLICK HERE

---
Current list of lakes designated as infested by the DNR CLICK HERE
]
---
New Risk: Buy used waterfront equipment, get zebra mussels as part of bargain. Used equipment must be kept out of the water for 21 days before being moved to another lake.
From the MN DNR:
"Boat lifts, docks, swim rafts and other water-related equipment (except boats and other watercraft) that are removed from any water body may not be placed in another water body for at least 21 days.
The drying out period is designed to kill any AIS that might be attached to the equipment that are high risk and difficult to clean. Two zebra mussel introductions occurred last year as a result of water equipment being sold and moved from one water body to another."
We have heard MN DNR Invasive species experts say that there is great danger of introducing invasive species into another lake when boat lifts, swim rafts, used docks, and other similar equipment is moved from one lake to another.
---
ZEBRA MUSSEL RESEARCH
Research scientist speaks at WAPOA meeting held September 13, 2011 -- Zebra Mussel Control Research--- 100 chairs set up, more added as audience extends into next room CLICK HERE
------------------------------------------------------------------------------------------------------------------------------------------
RECENT AWARDS
Award for Jack and Judy Wallschlaeger, WAPOA volunteers CLICK HERE
WAPOA members and projects among those included in this regional recognition. Most fifth paragraph projects are WAPOA related more.....
Davidges win construction award CLICK HERE
---
HABITAT IMPROVEMENT
September 27, 2011 Project to improve walleye spawning on the Whitefish Chain
DNR and WAPOA work on Hay Creek walleye habitat
35,000 pounds of rocks? CLICK HERE
2012 Profile of Ed Egan, a WAPOA director at the time of the above restoration CLICK HERE
---
ENFORCEMENT and INVESTIGATION
Aug 30, 2011 DNR cites boater at Lower Hay access for milfoil transport CLICK HERE

Aug 19, 2011 Investigation of milfoil scare on Rush Lake CLICK HERE
March 3, 2012 Conviction for zebra mussel introduction CLICK HERE
2012 Zebra mussels on cart in pickup truck in Two Harbors leads to citation CLICK HERE
---
WHAT YOU SHOULD DO AT THE ACCESS
MN DNR PHOTO
Aug 10, 2011 NEW DNR boat washers at "invaded" lakes-You Tube VIDEO SEE IT HERE
July 1, 2011 WAPOA/County access inspectors in the news CLICK HERE
May 25, 2011 WAPOA's invasive species efforts, article by WAPOA's Marv Erdman CLICK HERE
May 30, 2011 New invasive species law--draining bait buckets CLICK HERE
June 1, 2011 MN DNR summary of new invasive species laws CLICK HERE
---
SHORELINE RESTORATION
Restore your shoreline, the benefit is better lake water. Imagine colorful flowers and plants beautifying your lakeshore.
You can do it! CLICK HERE
Restore Your Shore is a powerful multimedia program for shoreland owners and professionals to use in implementing shoreland restoration and protection projects.">
Photo courtesy Minnesota DNR
5 Winners in WAPOA's 2012 Shoreline Restoration Contest CLICK HERE
10 tips for improving your shoreline CLICK HERE

---
ROLLIE ISLAND RESTORATION
Restoration CLICK HERE
Fixing this eroding sand bank will improve water quality and the fishery.
This was all bare eroding sand before.
Photo taken about 8 weeks after planting.

---
GULL LAKE INFECTED
Then Pelican
Then the Whitefish Chain
Invasive zebra mussels in nearby Gull Lake
Nature's glue machines, they stick to everything
Found by trained waterfront installer
No practical method to eliminate from lake
DNR inspection highlights new reality CLICK HERE
photo Amy Benson, USGS, Bugwood.org
---
Maps Maps Maps2012 Invasive plant survey sites map.
A map of where WAPOA looked in 2013 for invasive plants. Looking before they become entrenched. Who knew they checked so many places? CLICK HERE
New 2013 water quality map. WAPOA measures water quality on many area lakes. See how your lake is doing. CLICK HERE
Where does the MN DNR stock fish on the chain?
Map by DNR Fisheries Specialist Owen Baird shows location and amount CLICK HERE
maps will be updated in May 2013 when latest data becomes available
---
LOSING OUR LAKES
A "MUST READ" A gem of reporting
"Losing Our Lakes" a three part series from the Star Tribune. This must-read series includes thought provoking observations from (now retired) DNR Conservation Officer Cary Shoutz. Additional county and citizen comments. CLICK HERE
---
RAISING MONEY FOR WALLEYE HABITAT
Run for the Walleye July 7, 2012 fun family run/walk, raises money for walleye habitat, electronic chip timing on a certified course, event photos CLICK HERE

Run for the Walleye 2013 Registration Information CLICK HERE

---
BIOLOGIST SPEAKER AT 2012 ANNUAL MEETING
Darby Nelson, a biologist, was the dynamic speaker at WAPOA's Annual Membership Meeting held on June 9, 2012.
---
Below, topics covered in the recent past
Jack Wallschlaeger, WAPOA visionary who worked to protect the lakes, passes away

CLICK HERE
Spring is here, fish-stripping starts on Whitefish

April 11, 2012

ARTICLE VIDEO CLICK HERE
DNR/WAPOA create walleye spawning bed in Hay creek

March 20, 2012

CLICK HERE
Men fall through ice, rescued by Hovercraft December 2011 CLICK HERE
WAPOA Shoreline Restoration Contest winners CLICK HERE
WAPOA educating boaters at Antique Boat show CLICK HERE
$105,000 Grant Awarded to PRWA. WAPOA is helping sponsor this valuable water quality project CLICK HERE
Not a secret, but little known to most, how does WAPOA raise funds for big conservation projects? CLICK HERE
Lakes pressured by increasing population, help from land-use ordinances CLICK HERE
Brainerd Dispatch on new land use ordinance March 23, 2011

CLICK HERE
---
Mission Statement
Stewardship of the natural world throughout the Whitefish Area and the Pine River Watershed is the mission of Whitefish Area Property Owners Association.

The Association shall lead and work with citizens, groups, associations, and government units to conserve and improve the quality of our waters, shoreland, fishery, wildlife resources, and general welfare for the benefit of present and future generations.



---




WAPOA

2007 Minnesota Lake Association of the Year

Whitefish Area Property Owners Assn PO Box 342 Crosslake MN 56442-0342